Welcome to the PreeVu Coaching Tutorial Library. This will help you navigate your way through the program with ease.  From the basics of managing clients and comparing images to designing custom wall concepts for clients and placing your orders through PreeVu.  We've made it simple for you to utilize PreeVu to its fullest capability and therefore boost your confidence to increase sales. The videos are grouped by subject for easy navigation. Watch the demonstration video below for more details.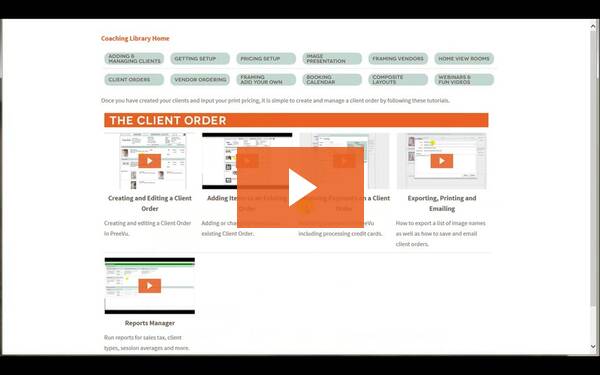 Create a Client/Import Images

How to Create a Client and Import Images into their Collection.




Input Retail Print Prices

How to input your "My Lab" retail print prices - with pricing for finishes, gallery wraps, etc.




Organic Bloom Frame Builder

Organic Bloom frame builder. They are an integrated vendor so you can order your frames directly through the program.




Selling Prints and Wall Art

How to sell prints and wall art pieces - gallery wraps, stand out mounts, etc.